Talking about Non-24
Barbara, age 51: "When I discuss Non-24 with family and friends, I explain to them that being blind, I don't have the light stimulation that they do. I say there are times that it affects my sleep."
Though Non-24 is common among people who are totally blind, awareness is low. That's why we've created fact sheets for you to print and give to family, friends, colleagues, and instructors, to help them understand Non-24 and the effect it may have on your life.
Now that you have a greater understanding of what your symptoms mean, help explain Non-24 and educate those who are closest to you.
We've also provided a brief guide to help you share Non-24 with friends who are blind, who may be dealing with the symptoms but aren't aware of Non-24.
Fact sheet for FAMILY AND FRIENDS (PDF)
Fact sheet for COLLEAGUES AND INSTRUCTORS (PDF)
Guide for FRIENDS WHO ARE BLIND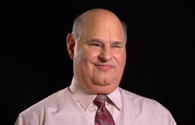 It can be helpful to let others know about Non-24
In this video, Steve talks about the importance of telling people in your life how the symptoms of Non-24 impact your life.